Welcome to A Little Strength! I'm happy you found my humble website, and I hope you enjoy it and are blessed and encouraged by it in some small way.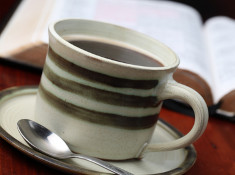 So grab a cup o' joe and stick around.
Why?
Because if you are a Christian, you need to be aware of how the prophetic scenario is coming together in order to maintain a proper perspective of where we are on God's prophetic clock. You also need to have your head screwed on straight about certain biblical teachings so you won't be deceived by those who seek to douse your faith in God's promises with a few bucketfuls of false doctrine.
Don't look now, but a few such people may be attending your church.
Or preaching from its pulpit.
If you are not a Christian, you still need to be aware of that prophetic scenario thing, because whether you like it or not—whether you believe it or not—it absolutely affects you as well. More than you realize. And with that sobering thought in mind, there are a few important things I would love to have the chance to explain to you.
That is, if you're willing to grab a cup o' joe and stick around.
It's like this: I am a Bible-believing, born-again Christian, I am convinced beyond any doubt that we are rapidly approaching the biblically prophesied period of time that will precede the return of Christ, and writing figures prominently in my concept of heaven.
Put those three things together, and you have this website.
Once a week, I post some brief comments on something that has been in the news recently, generally something of prophetic significance or interest. The most recent entry is shown below, and all previous entries can be found in Commentary.
I post a full-length article each month, and the current feature article is below. The entire archive can be found in Articles.
 Weekly Commentary: 
1/22/2018 — From the "Dangerous" Department...
U.S. Vice President Mike Pence is in Israel this week, and his presence has caused no small amount of turmoil among Arab members of the Knesset. Joint (Arab) List Leader Ayman Odeh (leader of Arab lawmakers in the Israeli government) called for a boycott of Pence's speech, purely out of a fit of pique over President Trump's December 6 announcement of America's recognition of Jerusalem as the capital of Israel.
Rumor has it they're also miffed over Trump's suggestion that water flows downhill.
Israeli Prime Minister Benjamin Netanyahu slammed the Arab boycott as "a disgrace," and stated:
"We will all be there, and will give the Vice President the honor due to him."
Arab MKs boycotting an American leader's speech following Trump's recognition of Jerusalem is not exactly earth-shattering news, with the Palestinians still in full hissy-fit mode after Trump's announcement and still refusing to acknowledge America's role in any negotiations. It was the way Ayman Odeh characterized the vice president, however, that struck me:
"[Pence] is a dangerous man with a messianic vision that includes the destruction of the entire region."
Dangerous...destruction of the entire region. Whew...that's scary stuff. Of course, I can only speculate as to what Odeh's eschatological proclivities may be, if any, but this almost made me laugh.
And messianic. Calling Mike Pence (who is refreshingly forthright about being a born-again believer) "messianic" is a bit like calling the Palestinians "anti-Semitic." Ya think? To say otherwise is almost a contradiction in terms. But what about this idea of being "dangerous" and having a "messianic vision that includes the destruction of the entire region"?
OK, let me see if I've got this straight:
Mike Pence believes that following a period of purging and judgment, Jesus Christ will return to earth to establish a thousand-year period of virtual heaven on earth often referred to as the Millennial Kingdom, with Israel, rather than being destroyed, serving as the pre-eminent nation on earth and home to the King of kings and Lord of lords Himself.
On the other hand...
Since Ayman Odeh is a Muslim, I must assume he believes that it is the sacred duty of Islam to start a global conflagration focused on destroying Israel in order to usher in the Islamic "savior" known as the Mahdi, who will personally help finish the task of slaughtering all the Jews.
Conclusion: It's obvious, isn't it? Mike Pence is a dangerous man.
 Feature Article: 
A Missing Piece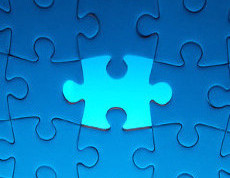 Few would disagree that the book of Revelation is one of the most puzzling and controversial books of the entire Bible. For nearly two millennia, legions of Bible scholars and teachers as well as ordinary believers have tried to sort out this dizzying pageant of symbols, characters, events, and cataclysmic waves of judgment that God pours out on a Christ-rejecting world.
As one might expect in the face of such a dizzying pageant of symbols, characters, events, and cataclysmic waves of judgment, there is an equally dizzying array of interpretive schemes that valiantly attempt to explain what it all means. These schemes evoke images of everything from literal asteroid strikes to allegorical fairy stories; from a horrifying future apocalypse to a historical fait accompli.
The problem, of course, is that God's Word doesn't afford us the luxury of accepting and entertaining myriads of interpretations. When people come along with unconventional theories and unorthodox scenarios, rather than just warmly embracing them in the name of tolerance, inclusion, and diversity, we have a biblical obligation to study them and do our utmost to rightly divide the Word and ultimately decide what's right and what's not in the light of what the Bible clearly teaches.
After all, this isn't a simulation game—it's not a classroom discussion in Comparative Literature. It's the inspired, inerrant Word of the living God, and the cold, naked, politically incorrect truth is that there is ultimately only one correct interpretation of anything in Scripture. As a result, while it is certainly true that godly men can and do passionately disagree in love and mutual respect, when we find an interpretation that contradicts other clear teaching in Scripture, we are compelled to call a spade a spade.
And the book of Revelation spawns more than its fair share of spades.
If you like this website, share it with someone!
If you'd like to receive an email letting you know
when a new article has been posted, subscribe!