Welcome to A Little Strength! I'm happy you found my humble website, and I hope you enjoy it and are blessed and encouraged by it in some small way.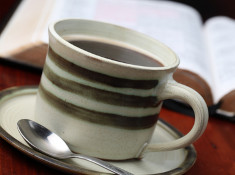 So grab a cup o' joe and stick around.
Why?
Because if you are a Christian, you need to be aware of how the prophetic scenario is coming together in order to maintain a proper perspective of where we are on God's prophetic clock. You also need to have your head screwed on straight about certain biblical teachings so you won't be deceived by those who seek to douse your faith in God's promises with a few bucketfuls of false doctrine.
Don't look now, but a few such people may be attending your church.
Or preaching from its pulpit.
If you are not a Christian, you still need to be aware of that prophetic scenario thing, because whether you like it or not—whether you believe it or not—it absolutely affects you as well. More than you realize. And with that sobering thought in mind, there are a few important things I would love to have the chance to explain to you.
That is, if you're willing to grab a cup o' joe and stick around.
It's like this: I am a Bible-believing, born-again Christian, I am convinced beyond any doubt that we are rapidly approaching the biblically prophesied period of time that will precede the return of Christ, and writing figures prominently in my concept of heaven.
Put those three things together, and you have this website.
Once a week, I post some brief comments on something that has been in the news recently, generally something of prophetic significance or interest. The most recent entry is shown below, and all previous entries can be found in Commentary.
I post a full-length article each month, and the current feature article is below. The entire archive can be found in Articles.
 Weekly Commentary: 
7/17/2017 — From the "Playing With Fire" Department...
Last Friday, three Palestinian terrorists snuck up on two Israeli police officers who were on duty on the Temple Mount in Jerusalem, and shot and killed them at close range. All three of the Muslim attackers were killed by Israeli security forces in ensuing gunfire before they could escape the Temple Mount area.
In what most people would consider an eminently prudent and sensible move, Israeli Prime Minister Benjamin Netanyahu immediately took the almost unprecedented step of closing the Temple Mount for a couple of days until the area could be secured and a thorough search for hidden weapons could be conducted. The last time such a step was taken was in 1969, only two years after Israel regained sovereign control over the city of Jerusalem in the Six Day War.
Of course, the Palestinians aren't most people.
Since then, one Muslim leader after another has been screaming bloody murder at what they see as a brutal outrage by the oppressive Israeli regime that is occupying Palestinian land. Most recently, terrorist group Hamas has openly called for more violent attacks in response to Israel's temporary closing of the Al-Aqsa Mosque. Muslim MKs (Members of the Knesset) Ahmad Tibi and Osama Sa'adi said in a joint statement:
"It is indeed time to emphasize that the continuation of the occupation, including the occupation of the Al-Aqsa Mosque and the holy sites, is the root of all evil, and that the occupation should be ended to save lives on all sides."
OIC: Of course...it's all clear to me now. The Israeli occupation of Palestinian land and Muslim holy sites such as the Temple Mount constitutes the root of all evil and must be stopped in order to "save lives on all sides." How did I miss that?
Oh wait, I think I know: I don't live on the same planet these guys do.
Not to sound all sensationalistic or anything, but this is a story to keep an eye on. This has the potential to spiral out of control quickly, and it would be spiraling into uncharted territory.
From a prophetic standpoint, this could be huge. Consider: We know that there will be a Third Temple built on the Temple Mount in the not-too-distant future, because several prophecies mention it and/or require it for their fulfillment (e.g. Dan. 9:27; 2 Thess. 2:3–4). But many students of Bible prophecy casually speak of a rebuilt temple as if they were talking about a new Starbucks going up in downtown Jerusalem. Like they've got all the materials prepared, so all they need now is the green light to slap that baby up—bada bing, bada boom.
Please understand: There's a wee bit more to it than that.
I'm going to say this as clearly and carefully as I can, because I want it to sink in. It is my humble but considered opinion that the following is true:
There will NEVER be a Third Temple until Israel retakes control
of the Temple Mount, and only a war will make that a reality.
Just as when Israel had to fight the Six Day War to regain control of Jerusalem 50 years ago this June, I believe it will take another such war to regain control of their (yes, their) Temple Mount. The Palestinians are playing with fire, and that fire could light the fuse of such a conflict.
Everybody is expecting something of great prophetic significance to happen in 2017, and who knows? Sure, this could blow over...but this could also lead to something that could turn out to be a significant part of it.
 Feature Article: 
The Chance of a Lifetime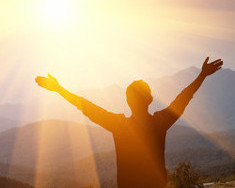 When people hear the gospel, respond to the conviction of the Holy Spirit, and trust in Christ's finished work of atonement for the forgiveness of their sin, they are born again spiritually. They become a new creature in Christ, and have passed from death to life from an eternal, spiritual standpoint.
I'll bet you knew that.
I'll bet you also knew that to have the chance to avail yourself of the grace and mercy of a holy, just, loving God during the current Church Age (i.e., prior to the Rapture) is in reality a wonderful opportunity. If you are born of the Spirit, then you are sealed with the indwelling presence of the Holy Spirit, who will never leave you and who is the down payment on the finished product—a glorified saint who will stand righteous before God thanks to Christ's perfect righteousness being imputed to you. You have become a member of the body of Christ, and your eternal destiny is secure in Him.
Let's be honest—if you're born again today, in a sense you've won the spiritual lottery. You are the beneficiary of the fact that your salvation is eternally secure from the moment you believed the gospel in faith, unlike all other groups of redeemed people who will ultimately populate heaven, such as Old Testament saints, Tribulation saints, the Jewish remnant who will be ushered alive into the kingdom, etc. As Church Age saints, we get the sweetheart deal of the ages, because we are that group of people Jesus was referring to when He said to Thomas:
29...because you have seen me, you have believed: blessed are they that have not seen, and yet have believed.
(John 20:29b AKJV / emphasis added)
That's how we are blessed—by being sealed with the indwelling presence of the Holy Spirit the moment we believe in faith and so being eternally secure in Christ. So, as far as salvation during the current Church Age is concerned...
I'd call that the chance of a lifetime.
If you like this website, share it with someone!
If you'd like to receive an email letting you know
when a new article has been posted, subscribe!