Welcome to A Little Strength! I'm happy you found my humble website, and I hope you enjoy it and are blessed and encouraged by it in some small way.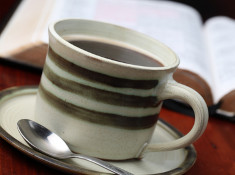 So grab a cup o' joe and stick around.
Why?
Because if you are a Christian, you need to be aware of how the prophetic scenario is coming together in order to maintain a proper perspective of where we are on God's prophetic clock. You also need to have your head screwed on straight about certain biblical teachings so you won't be deceived by those who seek to douse your faith in God's promises with a few bucketfuls of false doctrine.
Don't look now, but a few such people may be attending your church.
Or preaching from its pulpit.
If you are not a Christian, you still need to be aware of that prophetic scenario thing, because whether you like it or not—whether you believe it or not—it absolutely affects you as well. More than you realize. And with that sobering thought in mind, there are a few important things I would love to have the chance to explain to you.
That is, if you're willing to grab a cup o' joe and stick around.
It's like this: I am a Bible-believing, born-again Christian, I am convinced beyond any doubt that we are rapidly approaching the biblically prophesied period of time that will precede the return of Christ, and writing figures prominently in my concept of heaven.
Put those three things together, and you have this website.
Once a week, I post some brief comments on something that has been in the news recently, generally something of prophetic significance or interest. The most recent entry is shown below, and all previous entries can be found in Commentary.
I post a full-length article each month, and the current feature article is below. The entire archive can be found in Articles.
 Weekly Commentary: 
2/19/2018 — From the "Recognize This?" Department...
I have to hand it to Israeli Prime Minister Benjamin Netanyahu—the man has a wonderful sense of theater.
Netanyahu gave a speech at the Munich Security Conference a couple of days ago, and in this writer's humble opinion it was worthy of an Oscar nod.
As you may be aware, on February 10 Iran sent a drone into Israeli airspace. The IDF tracked it, and when they were confident it wasn't American (apparently it was a copy of an American-made drone Iran slapped together), they dispatched an Apache helicopter that unceremoniously blew it to smithereens over Israeli territory. Then they dispatched several F-16s to take out the Iranian control station in Syria from where the drone had been launched.
This might have been yet another military mini-confrontation that we never hear about on the mainstream media except for one small detail: Unfortunately, Syrian anti-aircraft missiles succeeded in hitting one of the Israeli fighter jets, which managed to make it back into Israeli airspace before crashing (both pilots survived). Israel responded immediately by sending more F-16s to wipe out roughly half of Syria's anti-aircraft capabilities.
And now it's a major story...and a major escalation in the proxy war Iran is waging in Syria with their Russian pals.
Israel's immediate and rather stinging response took Iran by surprise, according to some reports. Of course, Iran is playing dumb and denying everything, and it was their flat denial that set the stage for Netanyahu's remarks. As he spoke, the Israeli Prime Minister held a piece of the destroyed drone aloft for the whole world to see:
"Iran denies that it committed an act of aggression against Israel last week, that it sent a drone into our airspace to threaten our people. Well, here's a piece of that Iranian drone, or what's left of it after we shot it down. I brought it here so you could see for yourself."
Netanyahu directed his remarks to Iranian Foreign Minister Mohammad Javad Zarif:
"Mr. Zarif, do you recognize this? You should. It's yours. You can take back with you a message to the tyrants of Tehran: Do not test Israel's resolve."
Netanyahu made it clear that Israel was quite prepared to take the fight directly to the big dog on the block, and not just the pups it sends out to nip at Israel's heels.
"Israel will not allow Iran's regime to put a noose of terror around our neck. We will act if necessary, not just against Iran's proxies that are attacking us, but against Iran itself."
This is actually a big story, because it would seem to indicate a very real and very serious escalation in Iran's efforts to mount an offensive against Israel (along with their Russian BFFs), coupled with Israel's resolve to deal with the threat head on. While it's too soon to tell what will come of this, prophetically this rhymes with Ezekiel 38–39. Stay tuned.
 Feature Article: 
Go for the Gold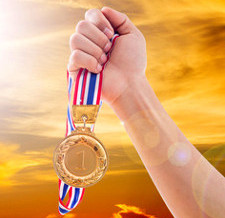 The Olympics have been in the news recently, partly due to North Korea's efforts to schmooze their way into the Winter Games in Seoul, South Korea in February. While some are welcoming the move, others are warning the hermit state could simply be playing nice for sanctions relief and to buy time to advance their nuclear weapons program. (Ya think?)
Political intrigue aside, however, I've always enjoyed the Olympics; it's always exciting to see the world's best athletes compete at the highest level, and it's especially thrilling when an athlete you're rooting for ends up standing on that podium to receive a gold medal.
But just like those superbly conditioned athletes, we as born-again believers will also stand on a podium one day soon to be rewarded—only the rewards we receive will never tarnish or corrode:
24Don't you know that those who run in a race all run, but one receives the prize? Run like that, that you may win. 25Every man who strives in the games exercises self-control in all things. Now they do it to receive a corruptible crown, but we an incorruptible. 26I therefore run like that, as not uncertainly. I fight like that, as not beating the air, 27but I beat my body and bring it into submission, lest by any means, after I have preached to others, I myself should be rejected.
(1 Corinthians 9:24–27 / emphasis added)
And please note that when Paul says "rejected," the word he uses (adokimos) indicates that he might forfeit his reward—not that he might lose his salvation. In other words, Paul is communicating his attitude toward his future rewards in heaven:
I'm going for the gold.
If you like this website, share it with someone!
If you'd like to receive an email letting you know
when a new article has been posted, subscribe!