Welcome to A Little Strength! I'm happy you found my humble website, and I hope you enjoy it and are blessed and encouraged by it in some small way.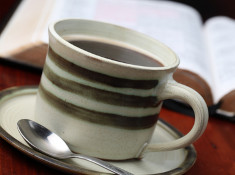 So grab a cup o' joe and stick around.
Why?
Because if you are a Christian, you need to be aware of how the prophetic scenario is coming together in order to maintain a proper perspective of where we are on God's prophetic clock. You also need to have your head screwed on straight about certain biblical teachings so you won't be deceived by those who seek to douse your faith in God's promises with a few bucketfuls of false doctrine.
Don't look now, but a few such people may be attending your church.
Or preaching from its pulpit.
If you are not a Christian, you still need to be aware of that prophetic scenario thing, because whether you like it or not—whether you believe it or not—it absolutely affects you as well. More than you realize. And with that sobering thought in mind, there are a few important things I would love to have the chance to explain to you.
That is, if you're willing to grab a cup o' joe and stick around.
It's like this: I am a Bible-believing, born-again Christian, I am convinced beyond any doubt that we are rapidly approaching the biblically prophesied period of time that will precede the return of Christ, and writing figures prominently in my concept of heaven.
Put those three things together, and you have this website.
Once a week, I post some brief comments on something that has been in the news recently, generally something of prophetic significance or interest. The most recent entry is shown below, and all previous entries can be found in Commentary.
I post a full-length article each month, and the current feature article is below. The entire archive can be found in Articles.
 Weekly Commentary: 
10/16/2017 — From the "Let's Get This Party Started" Department...
With the High Holy Days finished, Jews celebrate both Shemini Atzeret (the Eight Day of Assembly) and Simchat Torah (the Joy of the Torah). Simchat Torah celebrates the fact that the weekly reading of the Torah in synagogues is complete, and a new annual cycle of Torah readings is set to begin. This day is celebrated by people dancing in seven circles known as hakafot, with many holding Torah scrolls aloft. This celebration is carried out under somewhat subdued conditions, with musical instruments and filming being forbidden.
On the day following Simchat Torah, however, it is customary to hold what is known as a Second Hakafot in many public places, typically outdoors. This time it is a wild, joyous celebration featuring musical instruments. In other words, it's party time.
Second Hakafot celebrations are held in numerous places around Israel, but this year was different. This year a Second Hakafot celebration was held in a place where one had never been held before. For the first time in history, hundreds of Jews gathered in a very special place to sing and dance and celebrate the Torah—a place that is the epicenter of Jewish existence:
The Western Wall.
At a time when the Palestinians are screaming bloody murder about how the entire Temple Mount is holy Muslim property and the Jews have no historical connection to it whatsoever.
At a time when the Palestinians are spewing brash rhetoric about taking control of the Western Wall and barring Jews from even approaching it.
As hundreds of Jews danced and sang to honor their God and His Word at what is the holiest site on earth for them, all I can say is that I hope there were a few Palestinians within earshot because the message was loud and clear:
Let's get this party started.
 Feature Article: 
Sweet Hour of Prayer
"Sweet Hour of Prayer" has long been one of my favorite old hymns, but here lately it has taken on a whole new significance for me. Last month one of the most familiar faces associated with the REV12 movement took it upon himself to share with the world his theory about the exact day and hour of the Rapture, and I have been contemplating his remarks ever since. Oh, the day? September 23, 2017. Surprise! The hour? Keep reading.
Part of me almost doesn't want to write this because I don't relish the possibility of being viewed as the kind of guy who comes against someone many people love and respect (including me); but on the other hand I already had the car door slammed on my fingers over my last article, so...que será, será and all that. It is what it is and, like Popeye, I yam what I yam. I did want to get this out before the 23rd, however, partly on principle and partly because I will be traveling to the States during the last week of September and will be busy.
But I don't anticipate spending the aforementioned hour, the zero hour as it were, expecting at any moment to be changed into my glorified body. Not that I'm not looking forward to that.
It's just that I have other ideas about what to do during the zero hour.
If you like this website, share it with someone!
If you'd like to receive an email letting you know
when a new article has been posted, subscribe!