Welcome to A Little Strength! I'm happy you found my humble website, and I hope you enjoy it and are blessed and encouraged by it in some small way.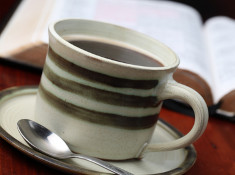 So grab a cup o' joe and stick around.
Why?
Because if you are a Christian, you need to be aware of how the prophetic scenario is coming together in order to maintain a proper perspective of where we are on God's prophetic clock. You also need to have your head screwed on straight about certain biblical teachings so you won't be deceived by those who seek to douse your faith in God's promises with a few bucketfuls of false doctrine.
Don't look now, but a few such people may be attending your church.
Or preaching from its pulpit.
If you are not a Christian, you still need to be aware of that prophetic scenario thing, because whether you like it or not—whether you believe it or not—it absolutely affects you as well. More than you realize. And with that sobering thought in mind, there are a few important things I would love to have the chance to explain to you.
That is, if you're willing to grab a cup o' joe and stick around.
It's like this: I am a Bible-believing, born-again Christian, I am convinced beyond any doubt that we are rapidly approaching the biblically prophesied period of time that will precede the return of Christ, and writing figures prominently in my concept of heaven.
Put those three things together, and you have this website.
Once a week, I post some brief comments on something that has been in the news recently, generally something of prophetic significance or interest. The most recent entry is shown below, and all previous entries can be found in Commentary.
I post a full-length article each month, and the current feature article is below. The entire archive can be found in Articles.
 Weekly Commentary: 
8/14/2017 — From the "Imagine That" Department...
Yikes! Stop the presses! News flash from Israel:
Jews are trying to Judaize the Temple Mount!
Imagine that. That's the news coming from the Palestinians these days, at least. Once again, the Jews are being viciously accused of having some degree of influence over land that belongs to them and holy sites that belong to their culture by a collection of Arab refugees who can make neither of those statements without Herculean stretches of the imagination.
What is interesting to note in the recent bluster coming from the Palestinians is that they actually believe the Jews are going to try and rebuild their temple on the Temple Mount. The Bible says they will, but it's interesting that the Palestinians are consumed with fear and anxiety over the belief that they will do so. A senior aide to PA chairman Mahmoud Abbas recently warned of...
"...the occupation's plans to Judaize Al-Quds and to build a synagogue in preparation for the construction of the imaginary Temple."
Imaginary. Not sure how much of a threat an "imaginary" temple is to the Palestinians, but they are clearly in a panic over the idea of such wanton desecration of their so-called Muslim "holy sites." Apparently, many Palestinians are convinced that the Jews are planning to destroy Al-Aqsa Mosque and build their temple in its place; but as pleasing as that prospect is to the Jews, I don't think many of them believe their previous two temples stood on that exact spot within the Temple Mount area.
But no matter the precise location of the future temple, I have a news flash for the Palestinians:
The Jews ARE going to build a Third Temple, they ARE going to build it on the Temple Mount, it WON'T be imaginary, and you AREN'T going to stop it.
Imagine that.
 Feature Article: 
The Long Arm of the Lord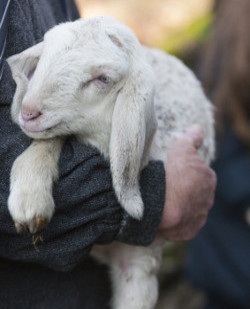 My best friend died.
Wait...let me back up. First of all, relax. It's not the way it sounds. I was in my school the other day using one of their computers during a long break between classes, perusing prophecy-related news as usual, and out of the clear, blue sky I felt the urge to google the name of an old childhood friend of mine. I've done this before on a few occasions, as I'm sure most of you have, just out of idle curiosity to see what ever happened to good old Michael or Mary or Jimmy or Jane.
Or Joe. Joe and I were born and raised in a small farm town in ​Central Illinois, and like most boys from small farm towns anywhere, we played baseball together in elementary school, teased girls together in junior high, and cruised the streets of our sleepy little town together in high school.
As you ​probably know, when you search on anyone's name on Google you invariably get a slew of results pertaining to 20 or 30 people with the same name who are not your long lost friend. I knew Joe was no geeky-techie type (that was my role), so I anticipated that I might have difficulty finding him online. Who knows...maybe a Facebook page, an entry at Linkedin, an arrest report perhaps. ​As I sifted through ​one false lead after ​another, my hopes dimmed as I came up with one handful of nothing after another.
Just as I was about ready to give it up and go back to what I had been doing, however, an entry caught my eye that appeared to be the website of a funeral home.
Well, that can't be him...
If you like this website, share it with someone!
If you'd like to receive an email letting you know
when a new article has been posted, subscribe!