Welcome to A Little Strength! I'm happy you found my humble website, and I hope you enjoy it and are blessed and encouraged by it in some small way.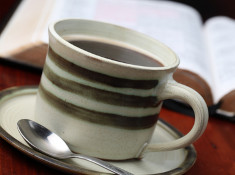 So grab a cup o' joe and stick around.
Why?
Because if you are a Christian, you need to be aware of how the prophetic scenario is coming together in order to maintain a proper perspective of where we are on God's prophetic clock. You also need to have your head screwed on straight about certain biblical teachings so you won't be deceived by those who seek to douse your faith in God's promises with a few bucketfuls of false doctrine.
Don't look now, but a few such people may be attending your church.
Or preaching from its pulpit.
If you are not a Christian, you still need to be aware of that prophetic scenario thing, because whether you like it or not—whether you believe it or not—it absolutely affects you as well. More than you realize. And with that sobering thought in mind, there are a few important things I would love to have the chance to explain to you.
That is, if you're willing to grab a cup o' joe and stick around.
It's like this: I am a Bible-believing, born-again Christian, I am convinced beyond any doubt that we are rapidly approaching the biblically prophesied period of time that will precede the return of Christ, and writing figures prominently in my concept of heaven.
Put those three things together, and you have this website.
Once a week, I post some brief comments on something that has been in the news recently, generally something of prophetic significance or interest. The most recent entry is shown below, and all previous entries can be found in Commentary.
I post a full-length article each month, and the current feature article is below. The entire archive can be found in Articles.
 Weekly Commentary: 
9/18/2017 — From the "'Tis the Season" Department...
This coming Saturday, September 23, 2017, the first great sign of Revelation 12:1–2 will be fulfilled:
1A great sign was seen in heaven: a woman clothed with the sun, and the moon under her feet, and on her head a crown of twelve stars. 2She was with child. She cried out in pain, laboring to give birth.
(Revelation 12:1–2)
If you are reading this, you are probably one who has a passing familiarity with this prophecy and the details surrounding it. Sadly, the same cannot be said for most others—including people who write science articles for Fox News, it would seem.
The following headline appeared in Fox News Science several days ago:
Biblical prophecy claims the world will end
on Sept. 23, Christian numerologists claim
And it goes downhill at a frightening rate of speed after that. I won't quote from the article. In fact I won't even link to it, because it's beyond egregious. If you want to waste two minutes of your precious time reading this nonsensical drivel, do a search on it and have a ball. The title alone pretty much tells you all you need to know.
It's no surprise to me that the mainstream media is publishing this sort of thing. But what breaks my heart is the fact that legions of professing Christians who claim to know something about Bible prophecy and who won't take 10 minutes to find out what the fulfillment of Revelation 12:1–2 is even about say the same kinds of things. And there is no shortage of those who are doing just that.
On the bright side, however, man's foolishness has no bearing on the truth of God's Word, and no impact whatsoever on its fulfillment. Revelation 12:1–2 will be fulfilled this Saturday, and all the hard-headed, hard-hearted mockery and derision in the world (or the Church) cannot stop it.
And what does it mean? Simple:
We are entering the season of the Rapture of the body of Christ.
Bottom line: The real REV12 movement begins on September 24.
Be part of it by being willing to wait and see what God is going to reveal next.
 Feature Article: 
Sweet Hour of Prayer
"Sweet Hour of Prayer" has long been one of my favorite old hymns, but here lately it has taken on a whole new significance for me. Last month one of the most familiar faces associated with the REV12 movement took it upon himself to share with the world his theory about the exact day and hour of the Rapture, and I have been contemplating his remarks ever since. Oh, the day? September 23, 2017...surprise! The hour? Keep reading.
Part of me almost doesn't want to write this because I don't relish the possibility of being viewed as the kind of guy who comes against someone many people love and respect (including me); but on the other hand I already had the car door slammed on my fingers over my last article, so...que será, será and all that. It is what it is and, like Popeye, I yam what I yam. I did want to get this out before the 23rd, however, partly on principle and partly because I will be traveling to the States during the last week of September and will be busy.
But I don't anticipate spending the aforementioned hour, the zero hour as it were, expecting at any moment to be changed into my glorified body. Not that I'm not looking forward to that.
It's just that I have other ideas about what to do during the zero hour.
If you like this website, share it with someone!
If you'd like to receive an email letting you know
when a new article has been posted, subscribe!